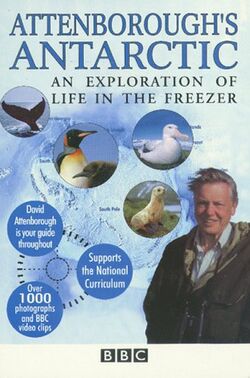 Attenborough`s Antarctic (Full title: Attenborough`s Antarctic: An exloration of life in the freezer.) is a CD-Rom published by BBC Multimedia and was released around 25 July 2000. The CD-Rom was designed to work on Windows 3.1 / 95 / 98 platforms.
David Attenborough presents the exploration of the South Pole.
Richly illustrated CD-ROM you can investigate the Antarctic Terrain.
6 guided tours introducing the key natural history themes within the programme.
Build your own slide show from the programmes pictures and music.
Finally you can build your own electronic project.
Over 1000 images photographs and BBC video clips.
Ad blocker interference detected!
Wikia is a free-to-use site that makes money from advertising. We have a modified experience for viewers using ad blockers

Wikia is not accessible if you've made further modifications. Remove the custom ad blocker rule(s) and the page will load as expected.